2 OCEANS PARADISE… A BLUE WORLD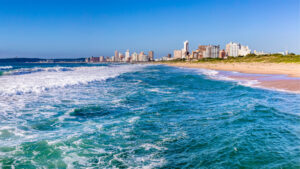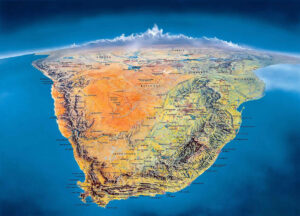 South Africa is a country know for it's magnificent wildlife and diverse cultures, a land known for wine, farming and great meat amongst so many more iconic landmarks and historical significance. People from all over the world travel or plan to travel to South Africa for more reason than one. however not many visitors nor many of our local South Africans experience in full the awe inspiring coastline of the country that stretches for over 3100km or 1924 miles from the Orange river mouth on the Namibian border to Farazela post north of Kosi Bay on the border between SA and Mozambique in upper north east Zulu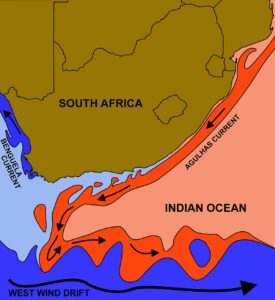 land.
I want to spread some insight in this blog and focus primarily on what you as desiring traveler might not know about already or simply not hear of very often, something that leads you as the reader away from the "beaten path" or the known road. What i mean by this is that most tourists visit South Africa with more focus being put on Safaris and game drives, Big 5 animals and historical areas etc.. All of this is great and should be experienced, bit so many people visit and don't get to experience what the oceanic environment and marine life in South Africa has to offer. Many of us visit Cape Town and Durban but only see the cities and the cultural side of thing. again this awesome and we are equally as proud of our conservation areas, National Parks and Reserves as we are of our oceans and marine life. The point i am making is simple,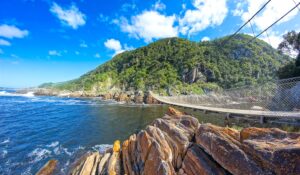 missing out on spending time anywhere on the South African coast is simply cutting your experience as a whole in half and making a trip or planning a tour with Greenlion Adventures ensures to maximise on the very best and most authentically pure pleasures this country has to offer. In particular the oceans and beaches. a true untouched gem!
We dream in colors borrowed by the sea!       – Van Morrison
Geographically the coastline is divided in 2 with the Atlantic ocean to the west and the Indian ocean to the east. There is a huge difference between the waters of these two mighty oceans. The Benguela current flows from north to south along the west coast of the country bringing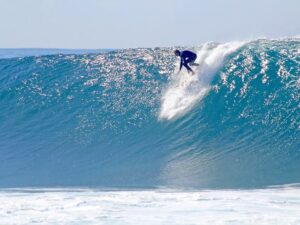 with it cold Atlantic waters, whilst the Agulhas current brings warmer waters from north flowing southward along the east coast of Southern Africa. They both meet near Cape point and this creates a very interesting natural wonder that attracts many marine mammals, fish and birds in their thousands.
The Koi-San hunter-gatherer tribes have lived and inhabited the entire stretch of ocean as well as the inland regions and interior of the country. The north-eastern region of the country called Zululand today was inhabited by Bantu speaking tribes as early as 190 AD and kingdoms were well established all along the coastline by the 11th century. The first European explorers to discover and land on the beaches of South Africa were Portuguese and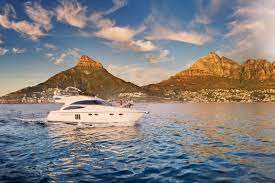 lead by Bartholomeu Dias in 1488 at Cape point in Cape Town, however the first to settle were the Dutch under Jan Van Riebeeck in 1652. Since then the oceans, harbours and beaches have been a massive part of South African way of life.
The country today sees millions of visitors per year to experience the magic of our oceans and you should too. With the entire beachline of the country providing very wide, clean and conserved beaches and that are friendly to visitors of any kind. beach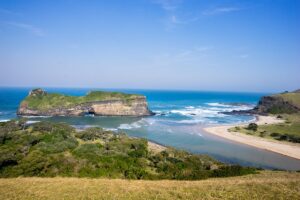 goers, sunbathers, nature lovers, thrill seekers, adventurists, hikers, birders, divers, snorkelers, swimmers, sailors, surfers, fisherman, photographers, biologists and marine enthusiasts plus so many more.
The activities are endless and there is something to do for every one, if experiencing the beauty of the bigger cities like Cape town, Port Elizabeth, East London and Durban is not your thing then escape to one of thousands of quit and more secluded spots and beaches. South Africa is one of only a few places in the world where you can complete a big 5 game drive and see whales and dolphins on the same day. For example, Hluhluwe Imfolozi National park is mere 45 min drive from the ocean and easily accessible. a small personal fact is that St Lucia is the only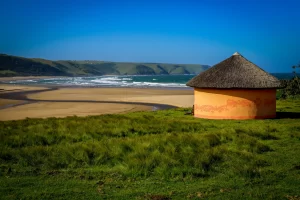 place where i have ever seen Leopard and African Elephants on the beach and even right up to the water.
Smaller vibrant and spectacular beach towns you have to visit and see are   You might also enjoy one of the hundreds of more adventuristic activities like bungee jumping the world's highest jump at Bloukrans or go kloofing, mountain biking, hiking, diving, surfing, kite surfing, wind surfing, deep sea diving, shark cage diving, horse riding on the beach or whale watching from land or boat. South Africa is one of the iconic spots around the world for whale watching at certain times of the year.
There is also the Garden route that stretches from Cape town to Port Elizabeth and is a protected area with extremely harsh conservation efforts and the Cape floral kingdom which is a world heritage site so if botany, flowers and trees is your thing then the Western Cape is a must do! South Africa is also world famous for it's wine and doing a wine route tour along the wine route will blow your mind away.
The animal and marine and bird life diversity is hard to match anywhere in the world and very special. With over 800 bird species found in the country of which 725 are local residents and impressively 51 bird species can only be found in South Africa. 299 mammalian species that includes the infamous big 5, 37 different whale, porpoise and dolphin species, 117 shark species and 2094 recorded fish species found in South African waters. The breathtaking Great sardine run that takes places annually between early May and mid July. This shoal of sardines stretching up to 7km long, 2 km wide and 30meters deep, moving in tandem and with no rest. This natural phenomenon can only be seen is SA and is visible from planes and from the surface of the water. During this period thousands of predators flock to these waters for a seafood buffet, these include up to 18 000 dolphins feeding of 'bait balls" they horde away from the massive shoal that usually initiates the frenzy and this attracts hundreds of sharks and whales to feed of the disorientated fish trapped in these bait balls. The predators that benefits most from this event though are not fish but birds. more particularly Cape Gannets that also indicate to us that the migration of sardines has started.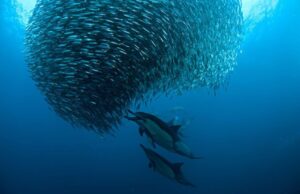 Whale watching is seasonal and depending on the species you want to observe or view. Southern right whales into the Western Cape waters to calve and nurse their young here between July and November with September usually being the peak time. Humpback whales can be seen with calves in Cape waters from as early as June throughout the summer months until late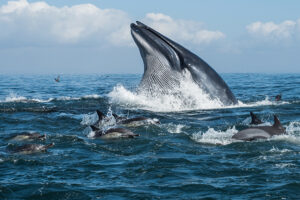 December with October being the peak period since the calves are older and more active at this time. Other species of whale that can be seen frequently in South African waters are the Byrde's whale , Pygmy Blue whale. A great variety of dolphins can be seen all around South African waters all year round including Common dolphin , Bottlenose dolphin, Orca (killer whale) Spinner dolphins and more.
In summary visiting any time of the year can be done , however weather determines other factors so summer will always be the best option. Not only for having the pleasant sunshine and warm beaches in summer but also the activities of marine animals are far greater than in the winter months. Traveling or visiting anywhere more north along the Indian ocean like anywhere in KwaZulu Natal or Eastern Cape, can be done anytime of the year and there won't be a huge difference between summer and winter conditions, with summer rainfall in this region as in most of Southern Africa provides with a wetter and greener season and this in turn provides with more wildlife, more birds, more marine life activity and also the many young life that is born, making the natural and wild experience a touch better.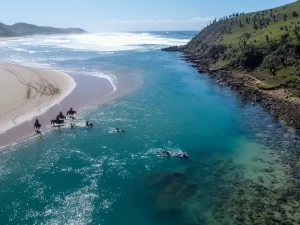 This is of course also the period that the people from the Northern hemisphere like North America, Europe and Asia wants to escape their very cold winters so the timing was always ideal this way. However you can get more or less the same experience anytime of the year. Winter water temperature is on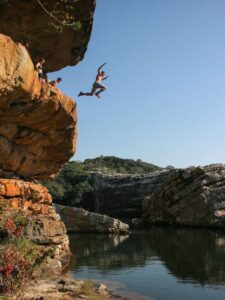 average around 18'C , with Summer water temperatures averaging around a pleasant 24'C, making it very suitable for ocean going.
The Western Cape province is a completely different ball game in that this region receives winter rainfall as apposed to the rest of the country and sub-continent and not only is the cold Atlantic waters here much colder than that of the Indian ocean up north. But also the infamous Cape storms bringing almost daily gusts of ongoing fierce winds , continuous downpours and very cold weather, makes winters in the Cape less desirable and therefor the advice is to visit the Western Cape anytime from early September Springtime throughout the year until Autumn/Fall around late March. During these 8 months the weather and the environment just lights up and the magic that this place holds come to life. Winter water temperatures average around a chilly 14'C, and Summer water temperature around 18'C on average.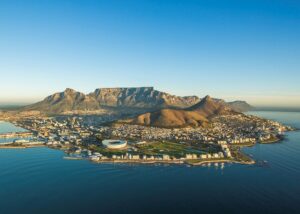 What Greenlion Adventures offer you as the client and valuable tourist is specialized packages and tours designed for your exact needs. We don't only have pre-designed tours available on our website, but we also offer to design and deliver any guided tour for any period or duration of time and with endless activities that you prefer. In order to cater to what you want to take from your experience. From Kruger National park and Pilansberg tours to photographic safaris in Sabi-Sands,Timbavati, Balule, Manyoni , Phinda and many more world class Game Reserves. To Cultural and Historical tours and city tours, adventure based tours and oceanic tours. We do it all and we pride ourselves with authentic hands on guiding with a smile.
i hope that this insight and blog will bring more value to what South Africa has to offer and that this will provide more reason
Contact us to enquire or book your tour now, and this time you will know exactly what to do!
website      www.greenlionadventures.com
email          info@greenlionadventures.com
nuria@greenlionadventures.com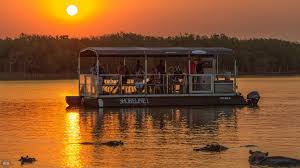 deon@greenlionadventures.com
facebook   Greenlion Adventures
instagram  #greenlionadventuressa