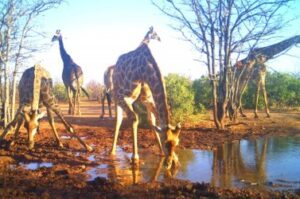 What would a trip to Africa or a game drive be without seeing the world's tallest animal? For most first-time travellers to Africa observing giraffe is high up on the "to do list" and for hundreds of generations African tribes have regarded these elegant animals and respected the species highly. For the Khoi-San people, giraffe has always signified water, being present in almost all their artistic sites, as their long necks allows them to speak with the clouds and convince them to drop their water.  Indeed, this iconic animal symbolizes Africa's natural heritage in the same manner, if not more, than the members of the Big 5.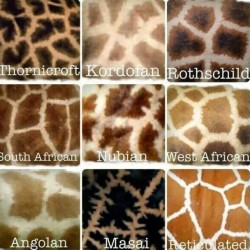 There are approximately a 107.000 giraffe left in the wild and another 2.000 in captivity around the World. More than 60 % of them are made up of 2 sub-species: the Angolan Giraffe and the South African Giraffe. Not much separates any of the 9 sub-species other than coat patterns.
There are 9 sub-species of giraffe found in Africa
Thornicroft

Or Rhodesian

G. c. Thornicrofti
600
East Zambia
Kordofan
G.c. antiquorum
2.000
Sudan
South-African
G.c. Giraffa
31.000
South Africa; Botswana; Namibia, Zimbabwe and Mozambique
Masai or Kilimanjaro
G.c. tippelskirchi
35.000
Kenya and Tanzania
Nubian
G.Camelopardalis
750
Congo and Sudan
Angolan or Smokey
G. c. angolensis
24.500
Angola; West Zambia and Northern Namibia
West African or Nigerian
G.c. perarlta
400
Chad
Rothschild or Ugandan
G.c. rothschildi
1.400
Uganda and Kenia
Reticulated or Somali
G.c. reticulata
8700
Somalia; Ethiopia and Eastern Kenya
*This graphic indicates the 9 different sub-species and their status plus in which countries they occur.
**The 2nd graphic shows their historical range as well as their current range.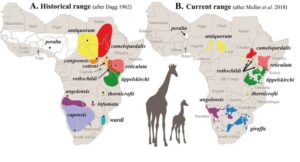 In the wild they can reach a life span of up to 20 to 24 years. In captivity they can live up to 40. Females reach sexual maturity at about 55 months of age while the male reaches it a bit sooner, at around 44 months. Although, the males only start breeding at age 7, when they start to take part in one-on-one combat against other bulls. These ritualistic battles are referred to a sparring; giraffes bulls do not defend territories but fights one another in order to establish a hierarchy and dominance; they fight that much that their skulls become heavier and knobbier with age.
The sparring starts with 2 males standing off next to each other facing the same direction and taking turns to throw heavy blows with their heads to the opponent's body. This process can take between 10 minutes and 5 hours; the duel is usually decided by submission and rarely by Knock-out. It looks quite comical but the amount of strain that the giraffe's body endures is intense and very energy sapping.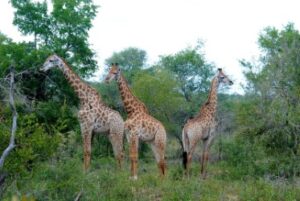 Bulls reach up to 5.5 metres in length and with all the sparring their 2 ossicones are mostly bold on top and hairless. The females can reach up to 4.5 metres and also don't partake in any battles; therefore, their ossicones are covered in tuffs of black hair that appears erect as if it was combed daily. Bulls that dominate sparring battles will have access to all the cows in oestrus. After approaching the potential partner, he will initiate another giraffe's ritual that is called necking. This action has both male and female, standing side by side rubbing their necks and heads gently and often intertwining their necks. This is simply the male's way if signalling his intent to the female. You can call it giraffe-foreplay.
Giraffes must deal with a particularly challenging issue which is that its brain is 2 metres away from its heart. It does so by having a powerful and exceptionally large heart that weights up to 12 kg., and that beats 3 times per second at very abnormally high pressure of 280 / 180 mm HG. This allows for blood to flow all the way up to the brain. The big heart, coupled with having specialized valves in the neck and just below the brain, allows the blood to flow up and back down with controlled pressure. The brain is exactly the size of a human brain, the only difference in between them, is how much of the brain is used and which parts of it. The tongue is 45 cm. and prehensile and it's covered in thick saliva that not only protects it from the hot African sun but also functions perfectly when feeding from the commonly thorny acacia trees.  Giraffe has the most efficient digestive system of all mammals in Africa. This rumination process of braking down the matter does it so efficiently that their dung-pellets are as small as that of a Kudu. The only way to tell the difference in between them would be distance in the position of the pellets lying on the floor; giraffe pellets are more dispersed than that of a Kudu, since they fall from a higher place.
Their social structure is very unique. They are highly social and gregarious with groups found together of 2 to 15 individuals; however this changes all the time and no permanent herds or groups stay together. Contrary to popular believe that there are mute, giraffe do have vocal organs similar to ours and they often do vocal communication; we just can't hear it since the frequency of the sound is too high pitched for our earing. The frequency is the same pitch of that of fruit bats. They also can be heard making snorts and gnarls when they are resting, and they also hum one to another at night when they can't rely on their eyesight. This can be heard by us.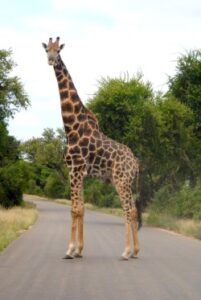 There is a general myth or believe that giraffes do not sleep on the ground, but this is not 100% true. 50% of resting is done standing on their feet usually for 10 to 20 minutes a few times per day; the other 50 % is done in a similar fashion to other antelopes and even your dog at home. The only trick is that with such a long neck and complex blood circulatory system they must keep their heads higher than the level of their heart. They do this by tilting their head backwards and resting it on their backs or on a branch or rock.
Giraffe never give birth to twins; the cows have a gestation period of up to 457 days with 2-year intervals. The young calves are born precocial and can walk with in 45 minutes of birth. They do face a very tricky 2-meter fall to the ground, head firsts, and sometimes they do not survive this. For those that do, the challenge for life is not over; 60% of giraffe calves fall prey to lions, hyaena, leopards and wild dog before turning 1 year old. When reaching maturity, the tables turn and not much other than prides of lions can prey on them. Even still they are very difficult to bring down. In fact, the second biggest threat for them as adults is strikes from lightening.
Their number were very low in the 1980's and 90's due to deforestation and illegal hunting, but in the last few decades good conservation efforts turned this around. As a specie they are doing far better than lions, elephants and rhinos, for example, yet the numbers are still decreasing. Today, the best places to see these magnificent animals are Kruger National Park in South Africa, Chobe National Park in Botswana, Etosha National Park in Namibia as well as the Serengeti in East Africa.
TOWERING GIRAFFE FACTS
A new born giraffe is 1.8 m. in length making it as long as the average human being.
Every single giraffe owns a unique coat pattern, like our fingerprints that makes us all unique. To them it serves to identify each other as individuals.
Their very long necks have 7 vertebrae (neck bones), the same amount as we do.
In winter months when trees cannot produce adequate amount of calcium and phosphorus, a giraffe, who has about 600 kg of bones itself, needs a lot of these, so they pick up and chew on bones of carcases to compensate its absence. This practice is called osteophagia.
A group of giraffes is referred to as a Tower of Giraffes.
The scientific name Camelopardalis linked them wrongfully with camels with whom they are actually not related at all. Their only relatives are another central African specie called the Okapi.
When a giraffe is in motion, it always steps with the rear and front left legs simultaneously touching the ground; the same applies to its right legs, even when it speeds of over 50 km/h. Its top speed is 60 km/h.
It is the tallest land animal on Earth at 5.5 meters. Some individuals have been recorded to be well over 6 meters. It is also the world's largest ruminant at 1.400 kg.
Some giraffe are darker than others, this has no significant meaning. It is normal among all 9 sub-species to produce different tone of colour and has no link to age or sex.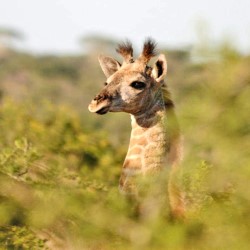 What's happening with Greenlion Adventures…
The Covid'19 pandemic virtually shutting down the world as we know it in early 2020 and  lock down now reaching it's second year, has left us with a lot to be concerned over, but it also has left us us with a lot to smile about. Our magnificent southern African beaches were closed for over 6 months, shark nets were removed, and natural areas were left untouched, which left a huge green print on the environment. For example, fish populations have increased drastically, and many natural areas have rehabilitated in this period. With everything including the beaches back open and the world moving on again, we are looking forward to very soon having the national and international travel bans lifted. It is extremely important and vital for the southern African countries and for all nations that rely on tourism, to have people travel again. In South Africa we depend heavily on tourism with it being our foremost biggest industry and source of life, bigger for us than mining and security.
From the single guide and chef that is currently unemployed and without income, right up to the lodges, game reserves, hotels and tour operators and agents closing their doors, the impact of Covid 19 is largely felt around the African continent as well the wide tourism World. With borders open once more, it is as essential for us as international travel destination providers, as it is for the international tourists, that we learn from all this experience and we operate again in a better and more respectful way that guarantees a sustainable and perdurable as well as collectively beneficial tourism industry.
Our parks look better than ever, our beaches are cleaner than ever, our oceans are breathing again and while our animals and birds are singing to the same tune as before, our people is suffering and in need as a consequence, and that's why we are more eager than ever to receive and welcome the world back to South Africa.
The time has arrived for tourism to reopen and now is a better time than ever before to experience this incredible continent called Africa. At Greenlion Adventures we are focused on preparing ourselves to deliver on presenting the magic of the land we call home to the World.
Also Greenlion Adventures is very proud to announce our newest pride member. Nuria Rovira, from Barcelona, Spain, brings her 6 years of experience as a Tour Leader around southern Africa and accredited certification as a South African Associated Field Guide with a wealth of knowledge and passion, to the team. It brings great pleasure to welcome her aboard as a co-owner, looking forward to roaring together.