Elephants, Queens and Kings of Africa 
(to my friend Rebeca)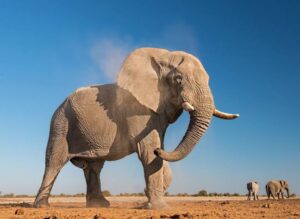 There is no other animal but the lion, that remind us so much of evocative sunsets in the African Savanna, than the Elephant. Humans and elephants share a long history together, sometimes placid, sometimes not that much…but we have been always fascinated for such an extraordinary animal, that can live as long as we can, and that is remarkably clever and emotionally sophisticated. Their look, their special trunks, their size and power, but also the tenderness and wisdom that you can spot in their eyes, make them one of the forever favourite animals of almost everyone.  The fact that they are herbivores, give them sometimes even more supporters.
For some of the oldest tribes that inhabited these southern African lands from very long time ago like, the San People, the elephants have been a symbol of water presence. The fact that they have an amazing memory, and that they are considered as a water dependant specie, since they must drink very often, following elephants or elephants' paths have been a traditional practiced since will most probably lead them to some sort of water source. Giraffe and the rhino have symbolized same to them, and the 3 commonly appear in the San-people rock paintings and engravings, that we can find all over Southern Africa.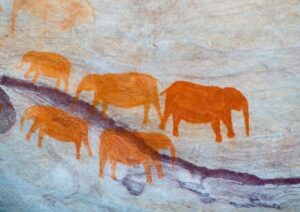 They belong to the Order: Probiscidea ;   Family: Elephantida.
There are 2 species of Elephants in the World: The African and the Asian Elephant, and all of them are provided with tusks when adults, except for the females of the Asian Elephant. In Africa we can only find the the first specie that is divided in 2 sub-species, the African Savanna Elephant, and the African Forest Elephant, both endemic of this continent. There are differences in between them that we will mention in another blog, but one of them is the size, being the African Savanna Elephant, the biggest of all of them.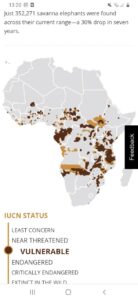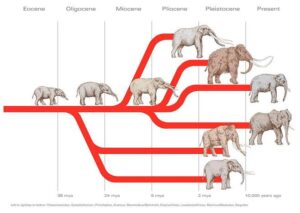 Their status is, according to IUCN of a vulnerable specie facing a high risk of endangerment in the wild. Their key threads are the extensive poaching for ivory (being China the most demanding country in the World, even if the Government banned its sale in 2017), habitat loss and fragmentation due to human population expansion and land conversion, and human-elephant space conflict.
No need to say anything else than this:
The number of elephants roaming free in Africa in 1930 decade was of about 10 million.
The number of elephants left in Africa nowadays is of about: 450.000
Botswana is currently home to more elephants than any other African country, being said that its famous Chobe National Park has reach sometimes, the uncomfortable number of 120.000 elephants in the Park, that has an extension of 11.600 km2; Southern Africa remains a stronghold for 293.000, or 70%, of the estimated remaining African elephants.
So much has been said and wrote about them, that we could be talking about elephants eternally. We will describe them a bit in the next pages, they are such incredible animals that every fact about them overwhelm us as human beings.
One of their most famous physical attributes are their tusks. Tusks are modified incisors and can reach lengths of over 3 metres, having been found weighting more than 122 kg, only one tusk!! The average weight for an adult male tusk will be of 50-80 kg. Elephants, as well as humans, will have a 1st set of called "Milk Teeth" that sometimes will never be visible, and that will be replaced by permanent ones at around 1 year of age. Anyway, in most of the cases the tusks are not shown until they are 2 years old, which can be used as an age reference.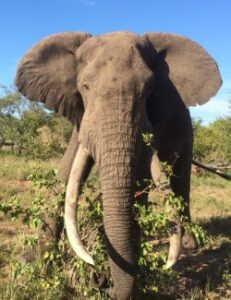 Tusks are very important for Elephants even of it's not impossible for them to survive without them. There are cases in which they get broken (even if it will normally happen to only one of them), but also there are malformations that make them useless for their owners, and there are even regions in the World in which female elephants are not having them anymore.
But they are of a great use for them, basically as tools for reaching food, peeling the bark of the trees to get their inner parts where the cambium layer is, and therefore more nutrients they will find. Or for digging in the earth also in the search of rich-nutrient roots or even water sources!
They will also use them as a weapon to fight with other males mostly for mating competence purposes, and as a defence in case of being threatened by other animals, humans or other circumstances.
What is called Ivory, is a patterned form of dentine capped with enamel. Tusks are really heavy and solid, but they break sometimes, recovering up to a point, in a decent short period of time. They are very beautiful and especially manageable when craved to make art crafts, which made them the main reason for the Elephants to be poached massively every year.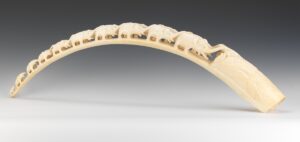 The rest of their teeth will be composed by molars and premolars that erupt from the rear of the jaw, and not the bottom as with other mammals. The new tooth emerges from the back pushing the previous one forward. During its lifetime an elephant has 6 set of teeth, each set having one molar on either side of the upper and lower jaw. Each of these molars can weight up to 3 kg!
Another very distinctive physical characteristic if not the most notable one, is their trunk. The trunk is a modified nose that will be used all day long for many different tasks the most important one, for breathing. It's composed by thousands of muscle fascicles or helical bands of muscles, organized in spiral around the trunk, from the top to the bottom, facilitating side-to side twisting for manipulation and apprehension of foodstuff and many more items, similar to how the octopus tentacles work.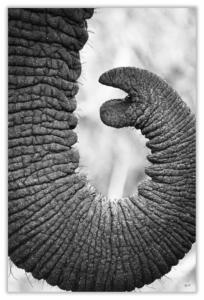 The trunk has long sensory hairs and it is surprisingly sensitive, especially towards the tip. There is not a single bone in them. When you observe baby elephants, you will not be able to stop laughing when watching them trying to control their wild trunks in their unsuccessful intent of imitating their mothers and older cousins. It takes a while to completely master this powerful tool, but once accomplished it is incredible how precise can they operate with them, even being able to pull stuck thorns from their feet or to pick individual berries from the floor, so sensitive and efficient they are.
It's said that elephants are left or right handed as well as we are…this is not completely precise, but, what is true, is that they tent to for example, twist the trunk usually in the same direction, because they have more strength, so they tent to use more one part of the trunk than the other, which is also visible since the side more utilized will be greener or reddish in colour due to the grass or cambium layer residues when pulling vegetation to eat it. Also, the usual knot that we can find normally more conspicuously in one of the tusks ,show us that they tent as well, to use one tusk more than the other. This is known as the "master" and "slave" tusk theory.
Their smell sense is incredibly good, why if not wood they be provided of such a big nose! They will use it for breathing purposes, but at the same time, when breathing, they will pick up scent particles full of hormones that will give them a lot of information, when placed in an organ called Jacobson Organ, or vomeronasal organs. They will dig their trunk in the urine of the females that is full of these pheromones, and this way they will find out if, for example, they are ready to mate.
They also use their trunks to beat clumps of grass against their legs to remove soil and blooming dust from its food, we see that a lot in Chobe River in Botswana, while doing the Boat Cruise in Chobe National Park.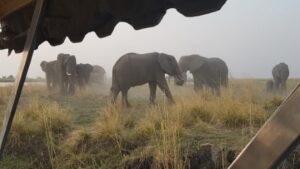 You can be so lucky to see them crossing the river to get into its islands and eat as much as they want, and they do so by swimming, sometimes even in a chain holding the tail of the one in front of them with their trunk. They use their trunks as snorkels, and they are such good swimmers than they don't need to touch bottom to move around.
Also, they use their trunks for amplification and to manufacture sounds for communication purposes.
The importance of the trunk!
They have the longest period of gestation of the terrestrial mammals, being of 22 to 23 months and they will breed in 8 to 9 years intervals.
One calf weight 120 kg, calves feed milk from their mother mammarial glands until they are about 2 years old.
Females start to breed at the age of 12 years on average.
We can say that there are 3 social sub-structures in which elephants will usually relate or will belong to. The normally larger in numbers social group will be the breeding herd. The breeding herd is normally composed by at least 5 individuals but can grow as much as 80 or even more, and can change temporary, making sometimes bigger associations that will split apart for some months for again later, regroup for some period of time. The breeding herds are composed by females related in between them like mothers and daughters, sisters, cousins, aunties and their calves of both sexes, staying with their mums up to a certain age when males, and normally much longer if not forever, when females.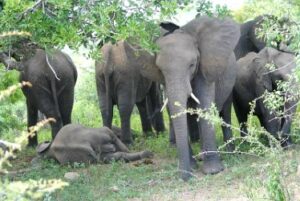 In ethology, which is the science that studies animal behaviour, it's said that elephants are organized in matriarchates, which means that, normally the older or an older dominant female, will take the reins of the breeding herd and will led it in important decisions as for example where to move to find water, when and where to rest and which water to drink and which not. Obviously, each mother will have a daily immediate responsibility in educating and teaching their own offspring, and also being aunties and grandmothers and older cousins, they will help and satellite the other's calves' education, making a whole co-shared responsibility educational system.
These breeding herds will be moving around searching for food resources, water, and safe places to roam, sometimes covering incredible distances and the matriarch will decide the luck of the whole breed by being right or wrong in delivering her orders to the rest. This is a lot of responsibility and sometimes, they will be more successful than others; you will see mothers making not that good decisions…this is life for all the individuals in all species: some of us are better skilled for life than others, and same applies for the elephants and rest of species.
So, each and every mother will teach her own calves and these other's calves that happen to be around her in that moment, about what to eat and what not to, where to find the better tree's roots, where the most and better nutrients are, or how to face a threat by waving temperamentally their head and opening their ears and screaming through their trunk and scraping the floor with their front legs. They will teach the little ones with all their knowledge, for them to be able to survive when the big moment arrives, and they leave the breeding herd for good. This will not always happen, since, often, mothers and daughters are together for life, but in the case of the males, this will eventually happen, and the moment will arrive when their sexual behaviour start to flourish and be shown.
Since the young males have been growing up together with their sisters and female cousins and in order to avoid interbreeding, when young bulls start with their inner hormonal changes that would lead them to adulthood, the mothers and matriarchs are forced to make a decision and chase them away from the breeding herd, for good. It's a painful moment for everyone; they say there are males that have been seen following miserably their former families for a whole year, at a certain distance, only because of them not accepting the separation or not feeling able to survive without them. But normally is not as dramatic as this, and your bulls will be chased away along with their male cousins of similar age, and they will start another of the 3 social groups we spoke about: The Bachelor Group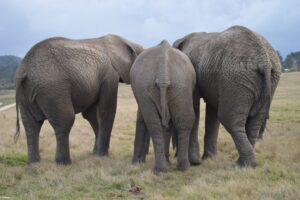 The bachelor group, as we said, will be composed by males, normally of similar ages, that are no longer allowed to live in their former breeding herds, and that will remain together for certain years in order to survive. Normally, these young groups will join older solitary bulls that will find on their way in the next years, until they will be grown up adults and they will, then, become the 3rd social structure: the solitary bulls.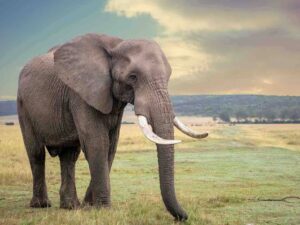 This solitary bull that will join the bachelor groups for periods of time, will teach them how to develop other skills as needed as the ones that their female family sector taught him. Now it's time to learn how to fight, how to approach females to mate with them, how to survive alone in the bush…even how to get closer to human villages without causing damage or hurting anyone. This vital role in the education of the new bull's generations, is destroyed every time an adult bull is poached. There are areas in which is known that the elephants act much more aggressively precisely because of the poaching experience, the trauma of witnessing their families die and also because this educational role chain being lost. In these areas where there has been a lot of poaching activity and there are not many adult bulls left, the young ones will grow up not knowing how to relate with human beings or how to do things in a proper way, causing a lot of problems that most of the times will end up in a bad way for the elephants, but also with fatal accidents in which humans are involved too.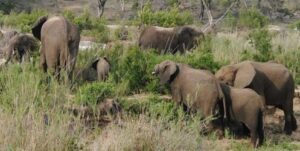 They are always communicating in between them, the adult females giving orders to their young, also communicating with their relative females in the breeding herd. When they cross paths with males, or other breeding herds. Basically, they are communicating as much as we humans do, and they do so in many different ways. One of them is through Infrasound that are sound waves that are too low to be detected by humans, of about 5 Hz, and that travel longer distances than the ultrasounds. They will also have corporal communication, through gestures; tactile expression and hormone releasing.  Plus, vocalizations, snoring and rumbling A whole universe of understanding, that is another prove of their amazing intelligence.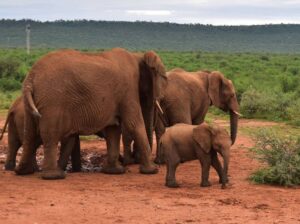 The pad of their front legs is different shaped that the ones on the hindlegs, being the front legs rounded compared to the hind legs pad's that are more oval shaped with a slightly pointy front edge, that is of a great help when tracking them since it is one of the indicatives of the direction the Elephant took. Also, their front legs are bigger and more powerful, and carries a lot of its body weight so the pad is wider and bigger.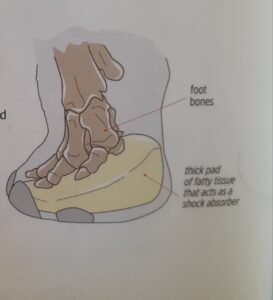 Even if it does not look so, they have 5 toes, but they are not visible to us, since they are covered by a thick pad; they walk on the tips of 4 of their 5 toes like a ballarine does, but they have a lot of fat and connective tissue in the heel that will absorb the impact of the walking and running and that evenly distributes their body weight. You would be surprised as to how incredibly silent elies can be, sometimes you are even too close to them because you literally could not hear them moving or approaching you.
They are unable to jump due to its foot structure, but they are able, nevertheless, of running up to 40 or 45 km/h!! Imagine such a big animal speeding that much!!
Being mammals as they are, they are what is known as warm-blooded (as an opposite for eg.  for the so-called cold-blooded reptiles), that is actually a way of referring to them as Endothermic Specie, being as they are, able of controlling its body temperature and adapt it to requirements by internal mechanisms. All the contrary than for example the crocodiles that will need to bask under the sun to obtain heat and transform it into energy or expose its open mouths to the air currents to cool their bodies down. But Elephants have not sweat glands, which means that they cannot cool down through the sweating mechanism, used for example by Us, humans. So, how do they cool themselves down?
They have different ways of doing it, but the most common and always on hand, is through the constant movement of their big ears. The skin of the elies can vary as much as from 5 cm to 5 mm depending on the parts of its body, being even able to feel and be hurt by a bee sting. Precisely behind their ears, they have the thinnest of its body skin, being so thin that the vein mesh that composes their ears, is very exposed to the environment and dilatates when hot temperatures. So, by moving them, they provoke little air currents that will cool down these exposed veins that at the same time will cool down the blood that passes through them, as if they were a house pipe, and eventually all the body temperature will cool down, making changes even up to 4 degrees!
Another way they have to cool themselves down, is by what is known as mud bathing, that they perform by throwing muddy water all over their bodies, with their incredible trumps, capable of carrying in between 10 to 12 litres of water per load when adults! Sometimes, when the space or the water-whole allows it, they will spin over their bodies on the wet and muddy land, making sure the maximum skin surface get covered with mud, in particular behind the ears area that as we exposed, helps to cool down faster. This mud, once dried up, will act as sun block, since it will create an almost impenetrable crest of dry-mud layer.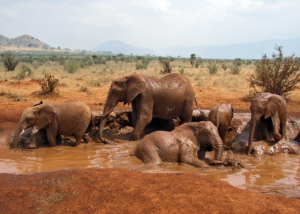 Elephants will need an incredible amount of food to obtain the needed energy to thermoregulate their massive bodies and obtain enough energy to survive; being as they are herbivores, they will need the ridiculous amount of in between 60 and 120 kg of vegetation per day, depending on the areas, the age of the individual, and its nutritional needs. In accordance to this amount of food ingestion, they will drop about 80 kg of dung in a daily basis! But this is not a waste at all. Elephant dung is one of the most utilized defecation products ever. The African tribes have use them traditionally for a variety of purposes such for example the Tswanas Botswana's Okavango Delta, have use the elephant dung to be burned inside of the houses and help with respiratory problems, also to expel mosquitos and as fuel material. When boiled they used to drink a tea made of it that traditionally is believed to help with stomach problems and also has been used a lot for construction purposes, as a sealer and cementer.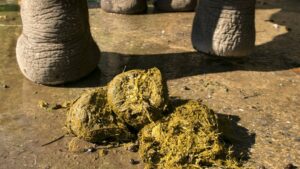 But the elephant dung has a much more important ecological role. Elies can walk huge distances of up to 70 km per day to feed and look for water or for survival purposes. During all this walking, they will be stopping and eating and then on the walk they will be dropping its faeces. At the same time, they will have the crucial role of opening paths and trails for smaller animals in their search for water, paths that will also often been used by humans as well. Given the fact that their digestion system is so poor and slow,  a huge percentage of what they will eat will be dropped on the floor as faeces practically intact: so, a lot of the fruits and seeds that they content will be complete and intact and still useful to be planted. And this is precisely what the elies will do by dropping their dungs all along their long walks. And then, after a bit of rain and some other animals stepping on the seeds to make them disappear under the earth, a new life will start! A new plant or tree will grow if the conditions are proper. Or maybe, another animal like a monkey or a squirrel, or a bird,  will scratch into the dung and find these seeds and will feed on them, which also helps someone to survive…or maybe will it be a dung beetle who will make the most of it 😊.
Young elephants and hippos sometimes eat their mother dung to obtain bacteria and micro-organisms that aid digestion of plant materials and for extra nourishment, which is called coprophagy so: elephant dung it's concluded to be of a lot of benefit!!
Sexual dimorphism is applicable to elephants since there are physiological differences in between both sexes. So…how can we differentiate them if we cross paths with them??
There are many ways in which we can differentiate males from females, and these differences will be more obvious with them becoming adults.
Let us start with what makes them identifiable as females or males:
The first, more obvious and impossible to fail clue, that is at the same a doubtful taste joke,  will be what is known as their "Fifth Leg". Mammals are, by definition, tetrapod which means that they have 4 limbs so…if you observe what it looks like a 5th leg, ehem, well, for sure it will always be a Male, since what looks like a 5th leg is actually a pennis. And it can be as long as 1,2 meters,  yes, almost as long as a leg!
Jokes left aside,  and due to its social structure, the fact that we see them being alone or in group, and also the composition of the group itself, will tell us a lot about the sex of the particular individual we are talking about. We will speak about their social organization later, but, as a firsts clue, if you see a solitary elephant roaming alone, it will be most of the times, a Male. Take note of that 😊.
Males are normally much bigger than females. An adult female can weight around 3 to 3.500 kg, while an adult male can reach even the 6.000 or 6.500 kg. so, if you see 2 adult individuals, size will be another of the references you can use in order to identify their sex. There are also heigh differences as for the males it will be of around 4 meters and for females normally of more or less 3.
Another visual difference will be the cranium structure or shape. When you look at two elies, one female and one male, you will realize that the skull profile or silhouette is different when looking at them laterally. Female's head structure is much more angulous shaped on its profile, while male's skulls are much more rounded and wide. Anyway, for a better understanding of what I'm trying to explain, please check next figure where Janesta Pulella draws it perfectly clear.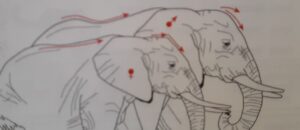 Another of the pretty conspicuous differences are the pair of mammae that the females have in between their front legs, shown as only smaller nipples in males, and that is at the same time, another of the specific characteristics of mammals, its mammae. They look much more inflamed when is breast feeding time, which lasts for even more than 2 years normally with each calf. Watching a baby-elie breast-feeding from its mama, apart from being a very sweet moment that you will never forget, will indicate you also very clearly the sex of the adult elephant.
The tusks in female and male are different too, being bulkier the ones of the males but longer the ones of the females.
Male's testicles are not visible since they are located close to the kidneys and they have no scrotum, so, not a help on this issue of identifying genders, but a cool fact to know!
Also, is said that when looking at them from the rear, the females tent to have a more roundish silhouette in the abdomen, hips and belly, and males would look slender compared to them.
Social and emotional relationships in between elephants is something that it's still being studied, and we never end amazing ourselves with every and each new discovery about their super sophisticated emotional world and social functioning. Elephants can live up to 60 years old…probably you, reader, are younger than that, or even if you are older, tell me…how many things happened to you or you experienced along your life and you probably are not even 60? How many memories do you have and how many things did you learn on the way…not even counting the things that you, genetically, already knew when you came to this world. To survive for so many years in an adverse environment, as Southern Africa usually is, requires accumulating a lot of knowledge and that this knowledge is passed generation through generation, genetically but also through communication and learning processes, a whole world in itself, that we will try to describe in its surface and that is an incredible sample of its vast intelligence and particular character. No wonder they have the heavier brain of any land mammal, with around 5 kg of encephalic mass, and well-developed temporal lobes providing them with an excellent long-term memory.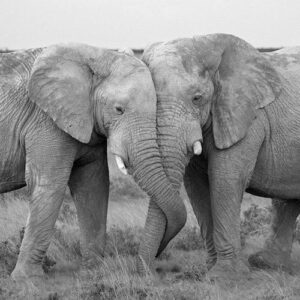 When speaking about elephant's memory and emotions, there are also many legends about elephant's cemeteries, where they are supposed to go to die at the same place where their families and friends are buried. That is completely not true. Will it not be amazing that you, as a specie, could predict when are you gonna die, and make it on time to fall precisely where your friends and family decided to do so too? There are many explanations about why accumulations of ivory had been found during the history in certain places, but none of them refers to this elephant cemeteries existence. There were times in History, and unfortunately even nowadays, where the trade of ivory was constant in Africa. Illegal and, by that time in the history, also legal ivory markets, were placed all over the continent and a lot of slaves died in the ivory industry. Some of these mistaken cemeteries are nothing else than ivory old trade markets or ivory storages where the ivory treaders used to have the elephant tusks ready to export them. It's also fair to say that there are areas, normally wet areas, in which the grasses and the trees are softer and more nutritious and that they will be preferred by old bulls to spend their last years, since it will be easier for them to eat with their lasts sets of teeth left, in these more generous and soft lands and riverine areas. Therefore, is reasonable to find a larger number of tusks in these areas, because a larger number of elephants will die around them. But, again, not as a conscious decision of them wanting to die in communal cemeteries.
It's also said that elies will pass through the same place where one of their family members died in the past, and they will stop there for some time, pay a respectful visit to its grave, and then continue their way. Well, in this case, appears to be true. There are many witnesses of this elephant behaviour, that again, let us have a glimpse of its immensely reach emotional world, very similar to the one we have. So sensitive they are than the Olifants Camp at KNP ultimately had to replace its tusks at the gate post with synthetic ones after they have been removed by elephants in numerous occasions.
MUSTH
More or less at 20 years of age, the bull start to get a cyclic alteration of its normal hormone levels, mostly testosterone disorders, and this temporary estate will manifest by him secreting an oily fluid through glands situated in its temples, called temporal glands, but also by constantly dripping urine and a greenish liquid full of testosterone that will stain and wet the inner side of its rear legs and that he will combine with a swaggering walking, bolder and more defiant than usual, to advertise their condition to females and rivals He will show a steady, faster than usual gait, moving the head side to side swagging it and the trunk will be moved loosen. Sometimes you will see the pennis swinging free and unsheathed and spraying urine.
This liquid will be the way the elephants have to release the excess of testosterone in its body, that in high concentrations, is considered toxic and also will be the true confirmation of them being in musth, given that even females and young ones can secrete a liquid substance fruit of excitement or irritation that, if it's not confirmed by the sex of the elephant and the dripping in the inner side of the hind legs, will probably be not a musth secretion . It has not always to be like that, but generally the chances of mating success are higher for the male under musth than for the one that is not, even though they don't need to be in musth to be able to mate. This altered estate will last for about 2 to 5 months once per year in adults from 30 to 40 years old, and a bit less in younger bulls. In many occasions will also be accompanied by a more aggressive behaviour from the bull, so when we observe these secretions it's better to give some extra space and right of way when we cross path with them.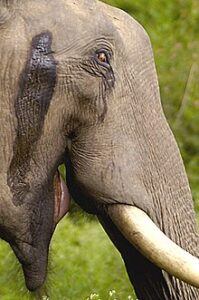 So, are elephants "dangerous" for humans as traditionally has been said? Elephants are a potential danger for humans, as well as a motorcycle is a potential deadly danger for us too; it all depends on the circumstances and also in our own behaviour. As we have said elephants need an incredible amount of food and water ingest to survive. Nowadays, the world has been subdivided satisfying the needs of private property that brought consequently, the alteration of the natural territories and home ranges in which each specie was supposed to develop and survive. In this specific case of the elephants, in the past they use to roam all over southern Africa, without any boundary, only the natural geological features, escarpments and rivers and deserts to cross…they would have plenty space to roam and look for resources while waking from one place t the other without any restrictions. When the private property started to rule our Planet, all these natural migrations were altered changing completely the natural balance in populations of the species.
Bumping heads with humans was eventually going to happen. Every and each encounter that an elephant will have in its life with a human being, will be registered in this amazingly huge brain of theirs, as a memory, that can be traumatic or pleasant, but that depending on its intensity, will accompany it for the rest of its life. Therefore, it is of a crucial importance that we have this in mind every time we cross paths with an elephant. We probably don't know its whole history, and what could trigger an old memory that could be for example traumatic. Being as there are such massive animals, any aggression towards us could be lethal…maybe not even intentionally, but their 6 tons of body weight are very likely to damage us if get in touch with our super weak bodies. That is not for scaring anyone, it's only to make understand that in lethal aggressions occurred in the past, the elies not always had intentions to kill, but it's only a logical consequence of the difference in body characteristics. When we visit a National Park or a Private Game Reserve, we must try our best, as professionals in the Field Guiding Industry, and as a non professionals, locals or internationals, to avoid any tense situation in between us and them. But unfortunately, sometimes this occasion will occur, and then we must know how to distinguish a real aggressive behaviour, or a threatening one, less dangerous but serious enough, because on our reaction will probably relay the next successions of facts.
While working around Sothern Africa, I often use to hear the guides talking about anecdotes in the wild, stories they have heard, others they lived themselves. Working in my profession, you have the chance to observe a lot of elephants and probably we all have something interesting to explain about our interactions with them. Normally, what you will hear when listening to all these stories, will be the words mock- charge. This is referred to the mock-display that elephants would do to warn you about their power, because somehow, they see you as a potential threat; but is called or defined as "mock", because it really does not mean an imminent aggressive attack from their side. When I went to the field guiding academy in LFGA, Limpopo, South Africa,  one of the things they taught me from the beginning is not to be fooled by these words as "mock-display or mock- charge", since ALL display provided by an elephant, female or male, trying to impress you or show you its own power,  MUST be taken seriously, and has never to be challenged because of having the impression that the elephant s teasing or pLaying with us. Elephants, as the highly intelligent specie they are, have also a sense of humour, but it does not apply when you meet face to face with an old matriarch trying to protect her herd or a solitary bull in musth, and you try to block their way, or give them a fright or you are just not acting respectfully towards them.  Sometimes you will not be able to avoid being in their way, and you will be the witness of this behaviour to show you that you are in the incorrect place because you are not giving the elephant enough space to move and continue.  Or you are making a noise that annoys them or you are splitting the herd in two. Then, you must be asking to yourself, when is it that they are going to attack, and how can we differentiate when they are only trying to warn us?
To put it more frank, I will put the example of dogs. If you know anything about them, you will probably know that the more a dog barks and shows up, normally the less it will bite, while…. when you see a dog rising its neck hair, its ears closed and groaning and flexing its front legs, the story can be completely different. Same happens with elies. Normally, the warning will be super dramatically displayed, like, he or she would run onto your car and then some meters before you having a heart attack, it will stop suddenly and a cloud of dust will follow him or her. Or they will shake their heads from side to side, making their ears go crazy loosen and also the trunk will move as a consequence. Or they will, at the same time vocalize in a strepitous scream through their trump or scrap the land with their front feet. Or even pick up and through you with objects such as sticks and stones. They, as well as we humans, and most of animals do, have a "personal space" in the sense of the space they need to feel comfortable in any given situation; and when you make it smaller by trespassing its limits, the animals or the person, feels discomfort or threat. The message, then, will be "hey there, you are in my way, or, you are getting to close to me and my family, or look what a big guy I am…" . They are seriously warning you, but unless you make an incautious movement, it's almost sure that they will not attempt to attack you. That would be of a risk for them (after all, with humans you never know) and for sure, a big waste of energy.
When they come running (sometimes at almost 45 km/h), with their ears completely flattened to its head, trunk curled up below the mouth and tusks shown, and they are almost completely silent, then, there are not many things that will stop them. Only, maybe, a bullet of at least a calibre 357, perfectly placed in the middle of their forehead,  and loads of cold blood on the shooter's side. But this is very unlikely to happen when acting with respect towards them and giving them room to move and get away from us. Nevertheless, the registers talk about an average of 500 deaths caused by elephant attacks per year in Africa.
Again, it's of a vital importance to remember that most of the times we don't know what the elephant went through during its life, so we don't know which mental associations they might have when encounters with humans or vehicles, refers to. So, the maximum precaution is always to be applied.
Commercial hunting over the last 100 years, certainly did not help the cause of Conservation. The value of Ivory has put tremendous pressure on the species and only now, are Conservation efforts, making a difference and also at Government level, with the value of Ivory declining and National Governments such as China's, who previously allowed the trade, now banning it. Things are moving in the right direction.
Elephnats sleep lying down, so there is no need to call the vet if we see one in this posture, as Trevor Carnaby joked in his Beat About the Bush. They will sleep up to 4 or 5 hours every night lying on their sides, and will also take short power naps during the day, if possible in shady places, standing on their feet. I've seen a family of Desert Adapted Elephants trying to take a siesta in a very hot summer day in Namibia, and not being able to do so, because one of the babies will spent the whole time bothering the others, kicking them with his trunk, and crawling over the rest of the bodies lying down under an acacia tree, trying to get their attention and make them play with him.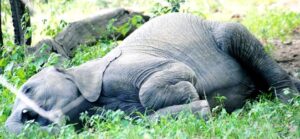 I have also seen them standing on their hind feet trying to reach fruits from the top of the trees, reaching an even more incredible altitude than usual.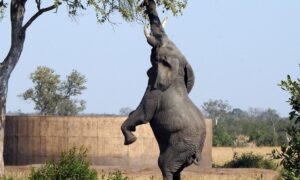 African Savanna Elephant ears, have the shape or the African Continent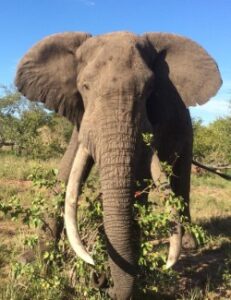 Nuria Rovira
References
Pathfinder, Janesta Pulella
Beat about the Bush, Mammals- Trevor Carnaby
Other readings.