Did you know that 1/4 of the mammal's global population can fly? When someone makes you this question you tend to think about elephants, dogs, monkeys, horses, and…none of them can fly…so, how is that possible that there are so many that can? Well…this is because of bats. There are more than 1.000 species of bats in the World which makes them of extremely significance in the mammal populations across the Globe, and they are the only one species of mammals that can actually perform a self-powered flight. Of all of them, 280 species are found in Africa and the rest are spread all over the World, except for extreme deserts and the Polar Regions.
Their wings are extensible and membrane-like (not developed the same way as birds, which wings are modified scales from their reptilian origins) and have a claw in the thumb attached to them. Even being flying animals, they still preserve solid bones.
With that said, there is a characteristic that makes them very unique, this is that they spend most of their time hanging upside-down from their legs. The reason for this adaptation is that their legs are so weak that they can't support their body weight when standing up…and that's all. That is why they hang upside-down with them, instead of being able to stand up on them while perching on the twigs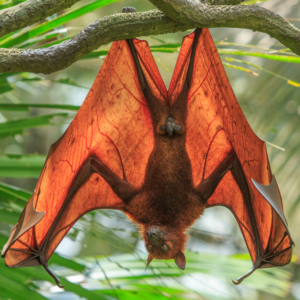 or branches as birds do.
Now you may be asking yourself, how come that they don't fall while sleeping hanging upside-down? This is another very cool fact about them; their legs are provided with a mechanism by which the tendons in the claws of the hind feet lock as the body relaxes, which allows them to grab and hold by doing it. Actually, they have to make a specific action to release themselves, so they can sleep perfectly safe of falling off, up to an extent that, even if they would have died while hanging, their corpses would not fall off or lose their grip until the moment another bat bumps on it, or it rots off. So, to fly again, the bats pull themself up.
How long can you be hanging upside-down from your legs? I remember myself playing in this posture as a kid and it was fun…for like 5 seconds? After that you were feeling literally your blood accumulating in your brain…so weird! Unlike us, bats have a special mechanism in their blood circulatory system that avoids blood pooling in their head while suspending upside-down from the claws in its feet, which they do for big amounts of time.
Bats have adapted wings (forelimbs) provided with claws that they use as hooks while catching aerial insects, which they mostly feed on.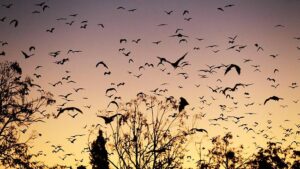 Most form colonies even if there are some species that are solitary.
Most of the bats are polygamous (one male mating with several females)
So…how do females give birth? It must be something tricky …or maybe not! Females deliver their babies by hanging upside down, grabbing the pup with their soft wing-membranes as it emerges; the baby will cling to the mother's fur and pectoral nipples and will keep protected close to its her body for a number of weeks relying on her milk, until it is weaned; or in other instances, when grown up enough, other species will leave their young in nurseries or will carry them around while foraging. When the mum returns to pick the pup up at the nursery, they will recognise themselves by scent and call. Nature always knows the way! An adult Bat female may only have 1-3 young each year, but they will live for a relatively long period of time given its size, of around from 5 to 20 years.
When food sources are not enough to survive or during very cold winters and when the opposite occurs and the temperatures are suddenly too high, there are some bats that go into a state of torpor. During this period, their metabolism and body temperature decreases and so does their heart rate and the breathing riddim, saving body resources by being inactive for a period of time, that it is short in the case of the torpor or long when they hibernate.
This way of being "almost dead" and sleeping when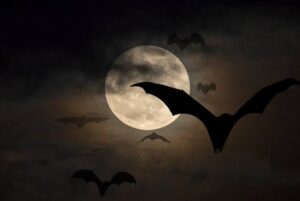 everyone else is active, plus the nocturnal habits and certain food preferences, make the Bats object of sinister cinematograph metaphorical myths and dark scary fairies of Counts and vampires…but…are there blood-suckers' Bats in Southern Africa??
The answer is NO; in fact, they are rare worldwide with only 3 species, all of them occurring naturally in Central and South America. These bats need an extra high protein diet of blood and for that means, they have evolved highly specialized characteristics such special mouth, teeth and tongue that allows them to nourish from this food-source.
Bats belong to the taxonomic order CHIROPTERA, basically divided in two very big Sub-orders with substantial differences in between them, but the basic one is the dietary habits: FRUIT-BATS, these that eat nectar, pollen and fruits and those that eat insects or INSECTIVOROUS-BATS, that give us easy clues to quickly distinguish them:
BATS, that give us easy clues to quickly distinguish them:
MICROCHIROPTERA: Insect feeders
Smaller in size,

Insectivorous Bat eating a Centipede

Insect eating,

Large ears
Normally use echolocation,
Reduced eyes (they barely use them),
well-developed interfemoral membrane
1 claw on the flexible thumb
Tomb Bats, Leaf Nosed Bats, Vesper Bats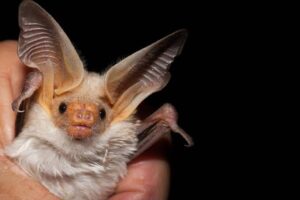 Insect-Eating Bats don't need to scent or see their food, but instead use echolocation. The faces of most of these bats have small, short noses that are often surrounded by elaborate folds of skin called nose leaves. They are probably used to channel and/or focus emitted and/or received ultrasound signals during eco-location.
MEGACHIROPTERA: Fruit, nectar, and pollen feeders

Fruit Bat
Bigger in size,
They eat fruit from the trees, flowers and nectar
use very developed eyesight and smell senses, and even if they can also eco-locate, they use their much bigger eyes to see.
Their ears are smaller, and they don't have ear tragus.
Interfemoral membrane not very developed

Fruit Bat

2 claws, one on the flexible thumb and the other on the index finger
Egyptian Fruit Bat (the only one in this sub-order that can echo-locate)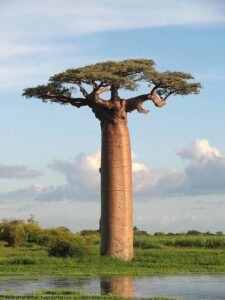 An amazingly interesting fact about the FRUIT BATS is that they are THE ONLY POLINATORS of the BAOBAB Tree, making them a great important niche in the South African Environment.
ECHO-LOCATION:
Mostly Chiroptera in their sub-order Micro, but also the Rousettus genus of the Megachiroptera (Egyptian fruit bat that uses echolocation by using sounds made with the tongue), used to locate and identify food and also navigate while flying because they don't have very good eyesight. Objects bounce off sound waves and the bats use the time that this wave takes to return, to identify and locate the objects.
They use also what is known as BIOSONAR, that is the behaviour of emitting sounds by different means and using their echo to locate something and that besides of the Bats it is also used by whales, dolphins, and some shrews. The Micro-bats make these noises by using its vocal cords in its larynx and the Mega-bats (the only one, Egyptian Bat) emitted clicks with the tongue. "In echo location this sound bounces back from objects in its path and the bat's ears detect the returning sound (echo) and the information in the echo is converted in their brains into information about the size, texture and distance of objects intercepted by their initial call, which allows them to locate where they are relative to their environment and respond accordingly", in words of Lee Gutteridge in The Bushveld, including the Kruger Lowveld. Different species of bats will use different strategies or techniques of emitting noises or echolocate, so the particular type of echolocation used by a bat is related to its size and anatomy, its habitat, hunting techniques and diet.
This technique allows Micro-bats to hunt in the darkest nights, since due to their natural evolution, they were forced to occupy this nocturnal flying insect's feeders niche, where there was less competitivity for them to feed. So, they don't need daylight to hunt.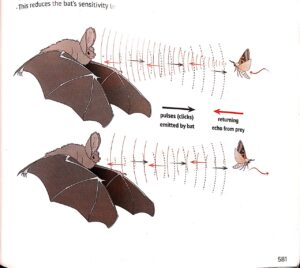 They emitted this very high range wave frequency noises through their noses (these species have special nose-leaves that are adapted to receive returning echoes) or through their open mouths (tongue clicking). The ranges of frequency that human beings can hear is of in between 15 kHz (Kilohertz) to 20 kHz. The bat's ultrasonic waves range in frequency goes from 20 to 200 kHz, meaning that most of the times, their vocalizations are not audible for us; actually, the only other mammal that can hear them at that pitch are the giraffes, that contrary to what most people thing, can vocalize and they do it in that ranges.
These high frequencies indicate size, speed, position, and direction of the prey, and are used more frequently that low frequencies, than on their side, can travel further than the high ones.
Are they not fascinating?
Sources:
Pathfinder– Janesta Pulella, 2018
The Bushveld– Lee Gutteridge, ed.2008
The wildlife of Southern Africa– A field guide to the animals and plants of the region.- Vincent Carruthers-1997