Kingdom of the Zulu
Early, Zulu land and Eastern South Africa, was inhabited by the San-Bushmen who for thousands of years roamed nomadically in the region just like they did in rest of Sub-Saharan Africa. At around the 1st century AC. Nguni tribes from Central Africa (Congo basin), started migrating southward, moving into the eastern parts of today's South Africa, somewhere between the 10th and 13th century AC. These Nguni tribes are today's Zulu, Swazi, Xhosa and Nbdebele people. These people brought with them ship, cattle, goats, and horticultural crops.
Capital            Pietermaritzburg
Largest City    Durban (3.1 million people)
Languages      isiZulu (81%); English (11%); IsiXhosa (4%)
Population       11.9 million people
Highest point   3.482 m. above sea level- Thabana Ntlenyana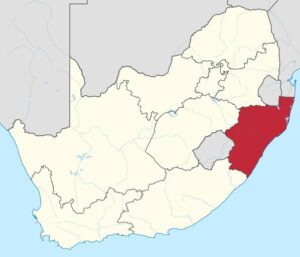 History of the Zulu Nation
The Zulu tribes that lived in the area north of the Tugela River were scattered all over the region forming small communities or bands of people. Zulu Land started as a small chieftaincy stretching until the Phongola River in the North and the Drakensberg mountain range in the West. Around 1810, the nearby Mthethwa Confederacy under its leader Dingiswayo had established links with other Zulu tribes. After his death, the illegitimate child of Senzangakhona, Shaka Zulu, became king.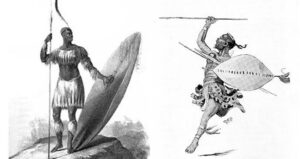 Shaka started vigorously reforming the Zulu people's military strategies as well as uniting all the smaller tribes into one bigger organization while establishing his dominance as a leader over neighbouring tribes. He introduced an entirely new disciplined and efficient fighting force and a system of well-fortified settlements known as aMakhanda. He also made it mandatory for boys aged 10 and above to be drafted into regiments known as aMabutho. He reinvented their combat strategies and the weapons they used; from this moment on, the infamous "bullhorn" strategy or combat formation was used effectively during the Anglo-Zulu and Zulu-Boer wars. The other ingenious modification was made to their traditionally long spears by making them much shorter and with a bigger tip; this weapon was called IKLWA. This short but deadly weapon proved to be extremely efficient and very troublesome to their opponents.
The IKLWA, the short spear weapon used by the Zulus, gets its name from the sound it makes when it enters and exists the body, disembowelling the opponent with a strike that resembles the very sound it makes.
More importantly, King Shaka set out to unify all the smaller bands of warriors into a large powerful military force. This period was referred to as the birth of the Zulu Empire.

In 1828 Shaka was assassinated and succeeded by his half-brother Dingane who kept all of their military tactics and strategies the same. Dingane's reign saw the Zulu Kingdom being penetrated by the British and the Boers in a period that was the start of a long and painful time of bloodshed and wars. During Shaka's reign between 1816 and 1828 as well as the first years of Dingane reign, the Zulu warriors raided Westward and Southward into the interior.  Various other tribes were defeated, most notably the San-Bushmen, but attacks against Xhosa and Sepedi tribes were also frequent.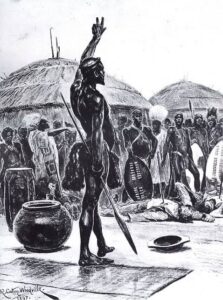 Back in 1824, two Englishmen obtained a grant of land from King Shaka and soon after, a number of English settlers arrived. The lucrative ivory and skins trade attracted many more Scandinavian as well as American settlers. This influx of people pushed the British to annex Natal in 1843. Another group of people made up of Dutch and French Voortrekkers, were moving into the region around 1833, evading British controlled Cape and colonialism. Their arrival will spark a chain of events that will change the political history of South Africa. The British who were first tolerated by the Zulus to settle at the Port that will eventually become Durban, grew in numbers causing Dingane to grow wary.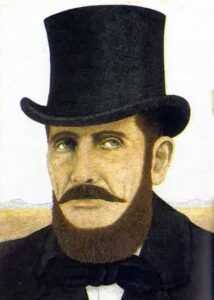 One of the Boer leaders Piet Retief asked Dingane for an audience to discuss the land issue. Dingane agreed and invited them to have a meeting in which he asked Retief to retrieve stolen cattle for him which Retief managed to do. When the cattle were returned Dingane blamed them for stealing some of the cattle and his warriors dragged Retief and his company of to a nearby hill where they were clubbed to death while his warriors also attacked nearby Voortrekker settlements. After the massacre, the Boers retaliated and on December 16th, 1838, they attacked the 15.000 strong Zulu army with only 464 armed Trekkers under Andries Pretorius command; the attack lasted a full day. The casualties on the side of the Zulus were enormous; over 5.000 dead and another 8.000 wounded, while the Boers only had 3 wounded men. This battle is one of the largest in South Africa history and it is known as the Battle of Blood River.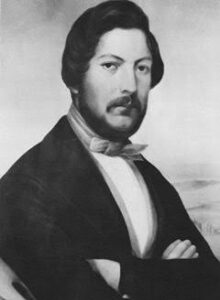 After the attack small conflicts took place that came to a halt in late 1839.  In 1840, Dingane was succeeded by King Mpande who immediately made concessions for land to the Boers south of the Tugela River and established himself North of the river.
King Mpande was replaced by his son Cetswayo who reigned from 1872 to 1879, the year that saw the Anglo-Zulu war take place. Six gruelling months of battle saw the British victorious. The first wave was fought with 16.000 men including native Africans; cannons and gatling guns failed miserably against 20.000 Zulu warriors with less sophisticated weaponry. After this, they struck with a second wave at Ulundi in early March and with 28.000 men plus more cannons and gatling guns finally defeated the Zulus who surrendered after suffering roughly 7.000 casualties and as many wounded. The British suffered 2.000 casualties and 300 wounded.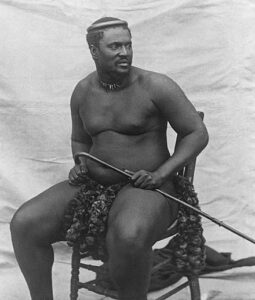 Unrest between all the parties boiled over and by 1880 war broke out between the Boers and the British in what is known as "The First Anglo-Boer War". It was fought until 1881 after 4 major battles:
Majuba
Bronkhorstspruit
Laingsnek
Schuinshoogte
With Majuba Hill being the decider giving the Boers the victory and thereby the independence of Transvaal (South African Republic).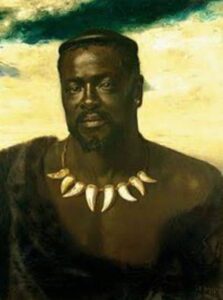 In 1884 DiniZulu became King at aged 15. He held the throne for 22 years over a period that witnessed the 2nd Anglo-Boer War, that took place between 1899 and 1902. This war changed the political landscape of South Africa largely. In late 1884, King DiniZulu made a pact with the Boers under Louis Botha, promising them land in return for military aid. He managed to defeat Zibhebhu with the help of the Boers. Zibhebhu was one of the 13 Kinglets in Zululand and also the one responsible for attacking DiniZulu's father (King Cetswayo) and overthrowing him leading to his exile. DiniZulu's spoils after this included about half of Zululand, of which he granted 50% to the Boers. The land was divided into farms and this was known as the formation of the Republic of Vryheid. This promptly alarmed the British and led to their annexation of Natal, in 1887. In 1906, DiniZulu was accused of high treason and public violence and was put on trial by the British and sentenced to 10 years imprisonment. However, when the Union of South Africa was formed in 1910, Louis Botha was appointed the First Prime Minister and one of his first acts was to release DiniZulu and to give him land in Transvaal where he died in exile in 1913.
His son Solomon kaDinizulu who was never recognized by the South African authorities as Zulu king, was in the other hand seen as king by ordinary Zulu people as well as the chiefs. The Government considered Maphumana a more cooperative and suitable Zulu chief.
Zulu kings or paramount chiefs were recognized by the country's authorities, who firmly held all the power over the Zulu people and if any chief or paramount person were to not cooperate with the Government they were imprisoned or removed from Office. KwaZulu or Zululand was an pre partheid era Bantustan or semi-independent forced homeland for the Zulu people and in 1908 the Capital was moved from Nongoma to Ulundi. Its leader was Mangosuthu Buthelezi who led until KwaZulu was abolished as a Bantustan and consolidated into the newly stablished province of the new democratic and free South Africa, KwaZulu-Natal.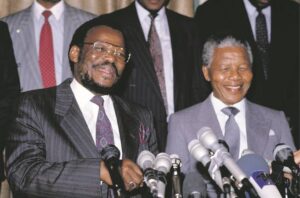 KwaZulu-Natal today has a royal Zulu family that appoints the King or Queen, although no Queen has been appointed up to now. King Goodwill Zwelithini Kabhekuzulu held this title for close to 50 years, until his recent death on 12th March 2021, aged 72. For the moment, his 5th wife, Mantfombi Dlaminu Zulu, was appointed Regent or interim leader until asuccessor will be selected.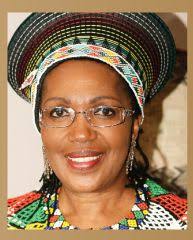 The Province is not only the birthplace of Zulu Kings like Shaka Zulu, other important figures from KZN include:
Bhambatha, a 19th century Zulu Chief who became an anti-Apartheid icon in South Africa.
Albert Luthuli, the first non-white and first non-European to be awarded the Nobel Peace Prize in 1960.

Albert Luthuli

Pixley Ka Isaka Seme, the founder of the ANC (African National Congress) and South Africa first black lawyer.
Mac Maharaj and Harry Gwala, two famous political activists against Apartheid.
Mangosuthu Buthelezi, the founder of the IFP (Inkatha Freedom Party), and Zulu king for almost half a century.
Jacob Zuma, former recent President of South Africa.
Indian South Africa
The first Indians arrived in South Africa in 1860; a ship carrying 342 independent Indian slave labourers arrived at Durban Harbour, marking the beginning of a long and painful period. Many ships followed after this, bringing with them a larger Indian labour force to work in the sugar cane plantations own by the British.
For most people around the World, the South African Indian people are generally associated with the famous lawyer and political activist Mahatma Gandhi, whose 21 years in South Africa, from 1893 to 1915, became the steppingstones for what was to follow in his life. He arrived to represent an Indian merchant in a lawsuit and decided to stay in the country after witnessing and suffering himself the political injustice and discrimination that his fellow people were facing in South Africa. Meanwhile, in his country of birth, India, his people were also fighting to gain their Independence from Great Britain.
After successfully employing non-violence resistance campaigns in KwaZulu-Natal and raising a family of his own, Gandhi moved back to India where he set about organizing protests against excessive land taxes and discrimination of farmers, peasants and urban labourers. After assuming leadership of the INC (Indian National Congress) in 1921, he led nationwide campaigns against:
Easing poverty
Expanding women rights
Religious and ethnic amity
Ending "untouchability" and achieving self-rule in the Indian caste system.
During his active political career in both South Africa and India, from 1893 up to the moment when he called for Britain to quit and leave India in 1943, he was imprisoned on many occasions. In 1947, Gandhi saw India gain Independence from Great Britain and the British leaved the Indian subcontinent after 90 years of colonization.
Gandhi was assassinated by a Hindu nationalist that fired 3 bullets into his chest.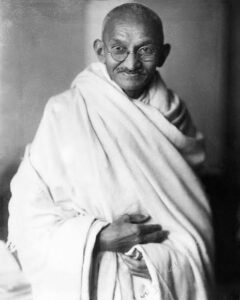 His birthday, on 2nd October is commemorated until today in India, a National Holliday called Gandhi Jayanti. He is known by his followers around the world as Bapu, that means father in Hindu, referring to him as the Father of the Indian Nation.
The Indian community came from a hardship period under a colonialist rule as slave labourers into an even harder and more painful era just, like the Zulus and the rest of non-white South Africans under Apartheid. They were classified as black citizens by a harshly ignorant Government and therefore stripped of any rights and public freedom; they endured subjugation and prejudice between 1948 and 1994.
Today South Africa is a free and democratic country, and the rights of Indian citizens are protected like that of all South Africans. The Indian community living in South Africa is the largest outside of India itself, the majority call KwaZulu-Natal home but they also form part of societies all over South Africa, big cities, and small towns alike, their culture is present everywhere.
Kwazulu-Natal today
KwaZulu-Natal today is a multicultural province, the 2nd most populous in the country. Its capital is Pietermaritzburg, while its bigger city is South Africa 3rd largest, Durban or known by its new official name eThekwini. 83% of the citizens in the province are Zulu.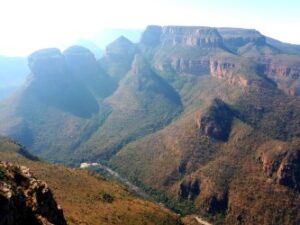 Two areas in the province had been declared UNESCO World Heritage Sites:
iSimangaliso wetland park
uKhahlamba Drakensberg park
The beauty the province holds is unmatched, and it is referred to as the garden of South Africa. To the West lies the breath-taking Drakensberg Mountains and to the East the Indian Ocean, a magnificent 700 km stretch of coastline with white beaches and subtropical climate. From Kosi Bay, just South of the Mozambique border and Sodwana Bay famous for its 4.000-year-old coral reefs and deep see diving, to Durban, the playground of South Africa and the sunny beaches of the South Coast, the amount of incredibly exiting activities and experiences it is endless: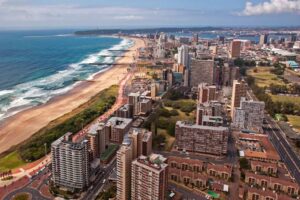 Diving and snorkelling
Scuba Diving
Deep Sea Diving
Bungie Jumping
Bridge Walking
Abseiling
Surfing
Crocodile Tours
Shark Cage diving
Free diving with sharks
Tiger Shark diving
Beach horse rides
Gorge Swinging
Mountain biking
Mountain climbing
Hiking
River rafting
4×4 tours
Wake boarding
Paddle surfing
Ziplining
Exploring caves
Visiting one of many butterfly farms
Interacting with elephants
Visiting a Cheetah rehab centre
Watching a life soccer match
Watching a life Rugby match
And if none of the above-mentioned activities attract your attention, then think about visiting any of the magnificent Parks and Reserves in the province for a chance to spot the Big 5 or your favourite African animal. The province is home to a large number of famous parks including Hluhluwe-Imfolozi National Park, rich in history with its success in rhinoceros conservation. Both, black rhino and white rhino expansion projects, were highly successfully undertaken since the 1970 's up to this very moment; the conservation efforts in Hluhluwe-Imfolozi National Park and the surrounding private reserves are extremely important. A trip to any of them is an unforgettable experience.
A list of only a handful of Parks and Reserves to visit in the province:
Hluhluwe-Imfolozi National Park
Royal Natal National Park
Pongola Nature Reserve
Zululand Rhino Reserve (Manyoni)
Phinda Resource Reserve
Tembe Elephan National Park
Ndumo Nature Reserve
iSimangaliso National Wetland Park

Map of National Parks in KZN

Mkhuze Nature Reserve
Amazulu Nature Reserve
Sohmkanda Nature Reserve
Umhlanga Lagoon Nature Reserve
Zulu-Nyala Game Reserve
Klipfontein Nature reserve
False Bay Park
Garden Castle State Forest
Lake Sibaya
Pongolapoort Nature Reserve
Falaza Wildlife Park
Bluff Nature Reserve
Thanda Nature Reserve
Greater St. Lucia Wetlands
Dargle Conservancy
Ithala Game Reserve
Cobham Estate Forest
Karkloof Nature Reserve
Oribi Gorge nature Reserve
Empisini Nature Reserve
uKhalhlamba Drakensberg National Park
Skyline Nature Reserve
Weenen Nature Reserve
Uvongo River Nature Reserve

                             Coat of Arms of KZN

Nambiti Game Reserve
ThakaZulu Game Reserve
The Imfolozi section of Hluhluwe-Imfolozi National Park before it was proclaimed as a National Park was King Shaka's royal hunting grounds, reserved only for him and his closest confidents.
Zulu- Stick Fighting also known as Donga is a martial art traditionally practiced by Nguni teenage boys, it remains a common ceremonial practice even today at weddings.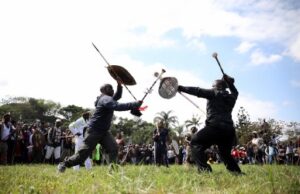 Zulu dances are a reflexion of societal believes and warrior traditions. Drums pay an essential part of celebrations; it is always accompanied with dancing and chanting. Witnessing this is an incredibly mesmerising experience.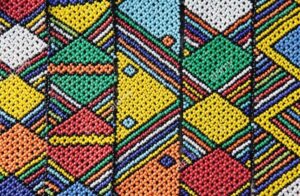 Zulu beadworks tell a very intriguing story, if you thought that the colourful beadwork done by Zulu women is just done randomly and put together at will then think again…every single bead, colour and pattern tell a story and is very spiritual and meaningful to the artist and the person wearing it.
Zulus have rite of passage for 4 critical life stages: Birth, Puberty, Marriage and Death
The isiZulu language is the most widely spoken language in the country with 13 million first-language speakers and over 25 million second-language speakers. It only became an official language in South Africa in 1994 when Apartheid was abolished and is one of the 11 official languages of the country.  The Zulu culture has expanded far beyond the country's borders, with scattered communities in Central Africa, Tanzania, Kenya and Mozambique amongst others, and the language is spoken in parts of many other provinces and countries in Sub-Saharan Africa.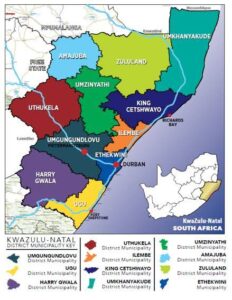 The name KwaZulu-Natal broken down: The "Kwa" means "the place of"; the "Zulu" refers to the "people" and "Natal" was given by the Portuguese sailor Vasco de Gama who named it "Terra Natales" (Port Natal).
The original Lion King Melody "The Lion sleeps tonight" was written by a Zulu tribesman and the copy right of the title was bought by Hans Zimmer and Elton John for the famous movie.
As a whole, the province is a must-do for adventure seekers and the place to be for any holiday-goer. The proud history, the rich culture and vibrant natura beauty of KwaZulu-Natal is unmatched anywhere.
So, for your next trip to Africa do not think twice about making this magnificent place your destination.
Masisukume Sakhe  ~  Let us raise and build    Zulu Motto